Office partitions that are tailored to your specifications, stylish, durable and practical. This is what our office partition service delivers to our many satisfied clients.

Simon Bernard Limited is one of the most trusted and respected building companies in Ireland with over 25 years experience in the building industry.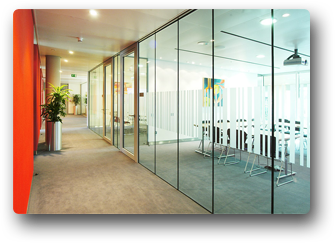 Glass Office Partition
We are specialists in the design and installation of office partitions including glass partitions, frameless glass wall partitions and many different types of solid office wall partitions, which create a stylish, modern and professional office interior and environment.

If you have a large open plan office, partitioning it off into dedicated, independent workspaces using our stylish office partitioning ideas, will create a better working environment for your staff, which will lead to increased productivity.

Office partitions are ideal for creating individual staff offices, client meeting rooms or separate sales areas within an open plan office. They instantly provide quieter, private areas eliminating distractions by work colleagues and other office activity.

At Simon Bernard Limited, we can design and install whatever type of office partition solution your workplace needs at a lower cost than you might imagine.

Please call us now on 01-451 4002 for a no obligation quote for all types of glass wall and solid wall office partitions.
Simon Bernard Ltd - Compliance
C2 Registered

Public Liability Insurance [ €6.5m]

Employers Liability Insurance [ €13m]

Member of Construction Industry Federation of Ireland

Member of Construction Workers Pension Scheme

Member of SIPTU & UCATT

Master Craft Carpenters, Painters & Plasterers

E.C.S.S.A. and R.E.C.I. Approved Electricians